The virtual event aims to resume the close contact and dialogue that ITKF had previously established with traditional Okinawan karate styles
Workshop Online
By PAULO PINTO
Curitiba – Brazil
The International Traditional Karate Federation will hold the 2nd ITKF Global Seminar on october 25th, starting at 9 am (Brasília time). The event will be opened and broadcasted by the ITKF YouTube.
According to ITKF chairman sensei Gilberto Gaertner, the event "aims to honor World Karate Day and to resume the close contact and dialogue that ITKF had previously established with traditional Okinawan karate styles."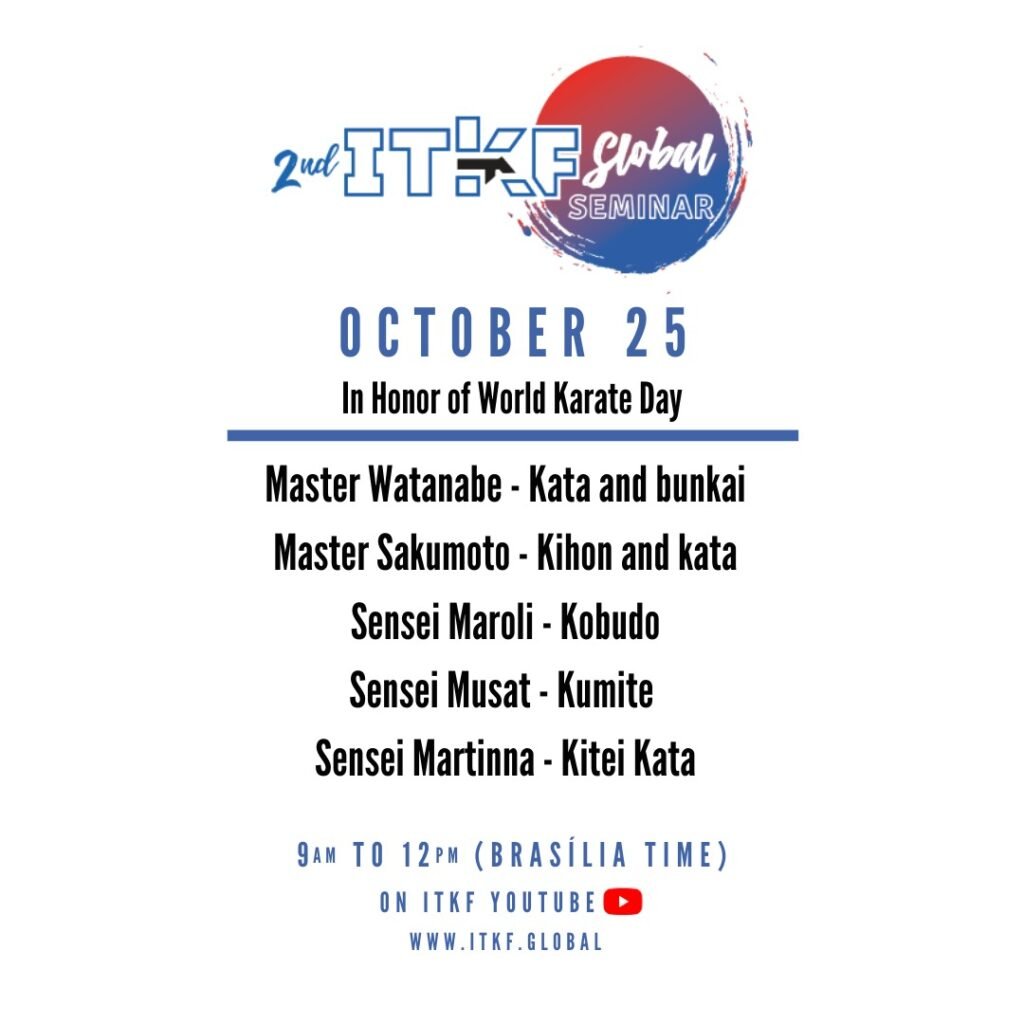 The event will present classes with excellent international instructors: Kittei Kata with sensei Martinna Rey (Brazil), Kumite Techniques with sensei Cornel Musat (Romania) and Kobudo Techniques with sensei Hector Maroli (Argentina).
We will also have a special guest representing Okinawa, Master Tsugo Sakumoto, who will present the Ryūei-ryū Karate and Kobudo style. Another special guest is Master Tasuke Watanabe, who, even in the process of recovering from serious surgery, will present kata and bunkai.
Leonardo Neves, ITKF's communication adviser, expects this second seminar to "exceed the number of accesses of the first to reach a larger number of countries."
It will be a very special event, as we will celebrate together the integration and global understanding mediated by karate. In ITKF's view, traditional karate focus on personal defense, motor and cognitive improvement and the strengthening of physical and mental health based on a culture of peace and sustainability.
ITKF INVITES
2nd ITKF Global Seminar
Organization: International Traditional Karate Federation
Speakers: Martinna Rey, Cornel Musat, Hector Maroli, Tsuguo Sakumoto and Tasuke Watanabe.
Date: October 25th, 2020
Time: 9 am (Brasilia time)
Platform: YouTube
Access: https://www.youtube.com/watch?v=khmtZJ13b-E&feature=youtu.be
Source: http://revistabudo.com.br/itkf-will-broadcast-the-2nd-global-seminar-to-honor-the-world-karate-day/